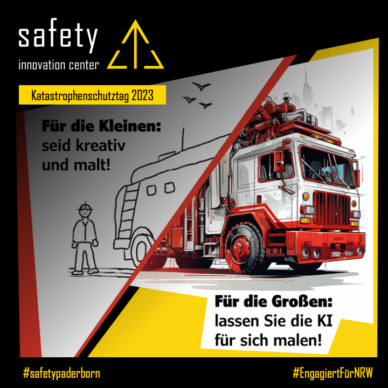 On Saturday, August 26 from 10 a.m. to 5 p.m., the NRW Disaster Protection Day will be held in Paderborn between the city hall and the Theodorianum. The event is themed "Extreme Weather" and thus also addresses the tornado event from 2022. The tornado, which passed over Paderborn, Lippstadt and the district of Höxter, caused damage of over 200 million euros.
The German Federal Agency for Technical Relief (THW), the Arbeiter Samariter Bund (ASB), the German Red Cross (DRK), the Malteser Hilfsdienst (MHD), the Johanniter Unfallhilfe (JUH), the Deutsche Lebensrettungsgesellschaft (DLRG) and the Paderborn Fire Department, as well as the safety innovation center, will be represented to give citizens an understanding of the entire breadth of disaster management through a colorful and family-friendly program. This will include "theme islands" with a wide range of tasks, including a vehicle exhibition, activity booths for hands-on activities, round-table discussions and exercise demonstrations.
The safety innovation center will be represented at the Theodorianum and will give children the opportunity to draw "the fire department of the future". Adults can spend time learning about current research and projects on "Digital Transformation in Emergency Response" and get an Artificial Intelligence to generate images of the "Fire Department of the Future."
Image source: safety innovation center gGmbH.

#digital #transformation #hazard prevention #security research #Paderborn #safetypaderborn #KatastrophenschutztagNRW #wasgehtwennnichtsmehrgeht #Katastrophenschutztag #KST2023 #ExtremeWeather #EngagiertFürNRW