The safety innovation center e.V. is emerged from the Paderborn University in 2017. The purpose of the association is to foster innovations in the field of civil safety. The registered association is selflessly active and does not primarily pursue its own economic purposes.
Who?
We are an initiative of researchers of Paderborn University, District of Paderborn and the City of Paderborn. We are supported by an advisory board and the university.
The initiators of the association – Robin Marterer, Therese Habig and Torben Sauerland – form the board. They are experienced researchers of Professor Dr.-Ing. Rainer Koch (Computer Application and Integration in Design and Planning, C.I.K. at the Paderborn University). They contribute to the association with their competencies they have built up since 2009 in national and international research projects – focusing on information technology and civil safety. The cooperation with the District of Paderborn and the City of Paderborn enables the bundling of past and future research interests of these two association members, who also send representatives to the extended board. By integrating the practice of fire brigade, municipality, rescue service, control centre etc. of a district and a city belonging to the district, it is possible to depict a typical constellation and process in the civil safety. The advisory board chaired by Prof. Dr.-Ing. Rainer Koch contributes additional perspectives.

What?
We investigate and realise together with our partners innovative concepts in the field of "Digitisation for Civil Safety" with a dedicated focus on human-centered design aspects. Our core focus is:
digital supported reconnaissance, visualisation and response
social media and communication
smart city and infrastructure
virtual environments, simulation and training
webbased platforms to link humans and technology
Based on a trustful and strong cooperation and in combination with the Digitalen Modellregion, Leitkommune Paderborn, there are ideal conditions for the long-term and sustainable research and realisation of "Digitisation for Civil Safety". Partners at national and international level, in particular the Paderborn University, play a major role in this.

How?
We identify needs of the civil safety and potentials through information technology and evaluate developed concepts and technical components in practice.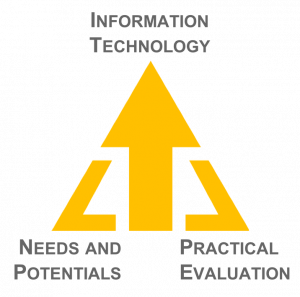 NEEDS AND POTENTIALS
Two aspects are the starting points for our work: Needs arising from the day-to-day practice of civil safety and potentials based on the current state of the art in research and technique in the field of information technology.
INFORMATION TECHNOLOGY
Digitisation brings innovations in all areas of life. Our aim is to make the resulting opportunities usable for civil safety purposes and to minimise the risks.
PRACTICAL EVALUATION
Once we have transferred needs and potentials into concepts and technical components, we evaluate them in practice. In addition to experts from civil safety, private individuals can often also participate.