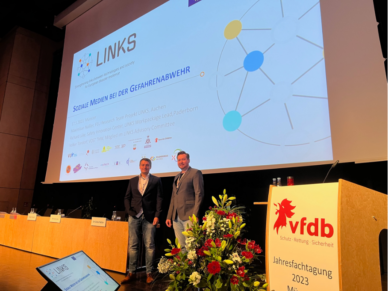 From 15.05.-17.05.2023, our project LINKS was presented at the 69th annual conference of the vfdb (Association for the Promotion of German Fire Protection e.V.) in Münster. In the joint expert session "Social media in crisis prevention", moderated by our project partner FEU (Federation of EUropean fire officers), the topic was considered from different perspectives. First, FEU presented a procedure for setting up a social media team in a municipal fire brigade. Then we presented the LINKS project and the LINKS Community Center with the libraries on technologies, guidelines and use cases for the application of social media in disasters. This was followed by a presentation on VOST Germany and its work. By involving the audience, it was possible to gather the opinions of practitioners in Germany and take away important impulses for the last third of the project.
Photo: safety innovation center gGmbH
This project receives funding from the European Union's Horizon 2020 research and innovation programme (Grant Agreement No. 883490).