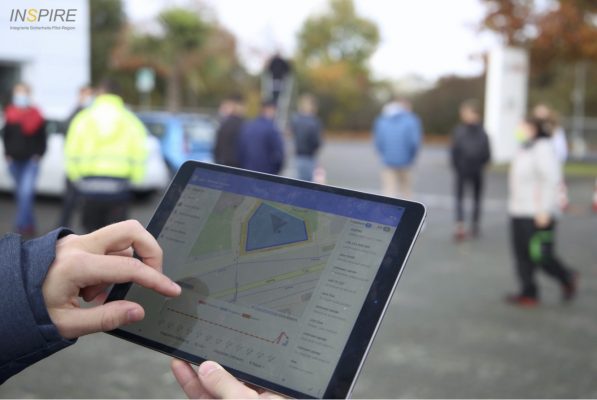 In order to be prepared for a use case at major events after the Corona pandemic, a test run of the research project Integrated Security Pilot Region (INSPIRE) took place on October 29. On the premises of the company RTB GmbH & Co. KG, which realizes the sub-project of passenger flow measurement in the project, an integration test was carried out in the course of this project. Major events are pre-planned locations where stationary technologies can also be installed. Examples are concerts, festivals, soccer matches, Christmas markets or city festivals.
The integration test enabled the simultaneous commissioning of the various sub-projects in interaction with a simulated crowd of people. Based on this data, the use case can be estimated before it is tested in practice at a large event.
The people flow measurement determined how many people are moving in different directions in a selected area. In addition, a search for the fictitious major event was set up via social media and sensors were installed for an adjacent smart building. In the INSPIRE.app, specific regions could then be defined to allow a more detailed view of relevant areas of the site.
More information about the project on: www.INSPIREprojekt.de
#INSPIREprojekt
Image source: safety innovation center gGmbH