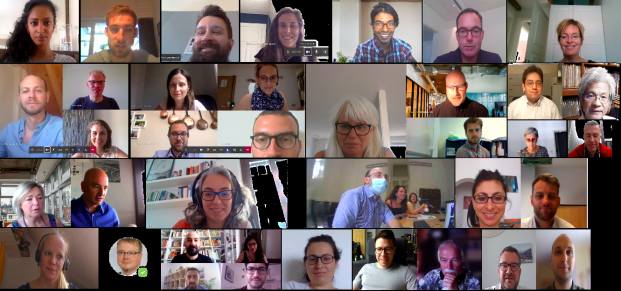 Here we go! On June 25 and 26, 2020, 40 participants from the 15 project partners and two associated partners met for a virtual kick-off meeting in the research project "Strengthening links between technologies and society for European disaster resilience" (LINKS). The focus was on getting to know each other, discussing the general conditions and planning the first tasks. The official start of the project, which is funded for 42 months with 5.2 million euros within the framework of "Secure Societies" (SU-SEC) of the EU funding program Horizon 2020, was already on June 1, 2020.
The project involves 16 public and private partners under the leadership of Dr. Kees Boersma from the Crisis Resilience Academy of the Free University of Amsterdam. The aim of LINKS is to understand and assess the impact of social media and crowd-sourcing (SMCS) on European resilience to disasters. In the course of the project, a framework will be developed that can be used to understand, assess and manage SMCS in disasters. The LINKS framework consists of scientific methods, tools and guidelines aimed at researchers, practitioners and policy makers. It will be developed and evaluated using five realistic scenarios (earthquake, flood, industry, terror, drought). LINKS brings together a community of stakeholders, the LINKS community, consisting of first responders, authorities, organizations, companies, citizens and researchers from all over Europe. Overall, LINKS aims to provide sustainable and enhanced learning about SMCS in disaster situations, strengthening the links between technologies and society for improved European disaster resilience.
The safety innovation center e.V. represents in LINKS the technical perspective within the overall concept. On the one hand, a structured overview of so-called "Disaster Community Technologies" will be developed and on the other hand a web-based platform for the LINKS Community will be created. We are looking forward to an exciting time and the cooperation!
Further information about the project LINKS is available at https://www.safetyinnovation.center/2020/07/strengthening-links-between-technologies-and-society-for&#8230
Image source: LINKS Projekt